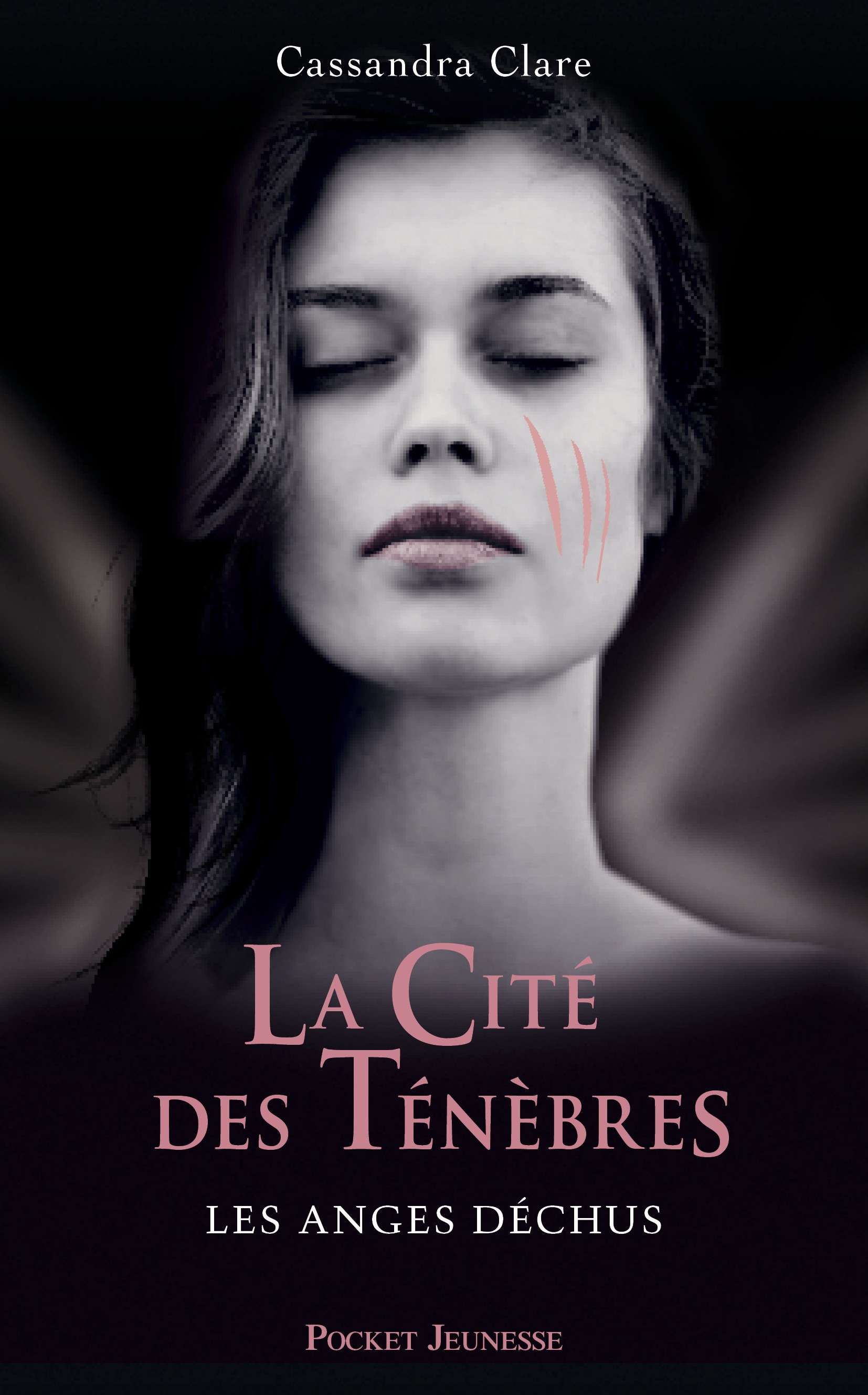 Il est probable que les titres des chapitres de vos exemplaires en version française soient sensiblement différents. J'ai fait une traduction littérale de ceux qui avaient été donnés par Cassie au moment de la sortie du livre en Langue Anglaise. Le traducteur a pu affiné la traduction en fonction du contenu...
Chapter One: A Proposition In which Simon, who has been trying hard to live as normal a life as he can, finds out that's not going to be possible any more.
Chapitre 1 : Une proposition
Dans lequel Simon, qui a essayé de vivre une vie normale autant que possible, se rend compte que ce ne sera désormais plus possible.
Chapter Two: Fear of Falling
This is the chapter that will be included in the paperback copy of City of Glass, so I won't say much about it, except it's Clary's POV.
Chapitre 2 : Peur et Chute
Ce Chapitre est celui qui est inclus dans à la fin de City of glass (le miroir mortel : ndlr) donc je n'en dirai pas grand-chose, à l'exception du fait qu'il se place du point de vue de Clary.
Chapter Three: Sevenfold And the Lord said unto him, Therefore whosoever slayeth Cain, vengeance shall be taken on him sevenfold. And the Lord set a mark upon Cain, lest any finding him should kill him. Well, that whole Mark of Cain business wasn't just going to go away.
Chapitre 3: 7 fois Et le seigneur lui dit, pour ce meurtre, par 7 fois la vengeance sera faite sur Caen. Et le seigneur marqua Caen pour qu'il ne soit pas tué. Cette marque n'allait pas partir aussi facilement.
Chapter Four: The Art of Eight Limbs
This one contains a training sequence that involves Muay Thai, a martial art that's called "The Art of Eight Limbs" because it involves using hands, elbows, knees and feet as strike points. This is also the chapter that contains the quote from the Seelie Queen I Tweeted — the one about "he's bound to you, but does he love you?"
Chapitre 4 : L'art des huit membres
Celui-ci contient une séance d'entraînement de thaï de Muay, un art martial qui s'appelle « l'art de huit membres » parce qu'il utilise les mains, les coudes, les genoux et les pieds comme points d'appui. C'est également le chapitre qui contient la citation de la Reine des fées que j'ai tweetée- «Il est lié à vous, mais vous aime-t-il ? »
Chapter Five: Hell Calls Hell
This is Latin, from one of the Psalms, abyssus abyssum invocat. Also translated as "deep calls unto deep." In which Clary tries on a bridesmaid's dress.
Chapitre cinq : L'enfer appelle l'enfer
C'est latin, issu d'un des psaumes, invocat d'abyssum d'abyssus. Également traduit comme « appels profonds à profondément. » Dans lequel Clary essaye une robe de demoiselle d'honneur.
Chapter Six: Wake The Dead Pretty literal, actually.
Chapitre 6 : Réveiller les morts Assez littéral en fait ;-)
Chapter Seven: Praetor Lupus
Those inclined toward Latin can have a whack at this one. This chapter has werewolves in it. :)
Chapitre sept : Praetor Lupus
Ceux qui connaissent le Latin peuvent venir à bout de celui-ci. Ce chapitre contient des loups-garous. :)
Chapter Eight: Walk in Darkness "But he that hateth his brother is in darkness, and walketh in darkness, and knoweth not whither he goeth, because that darkness hath blinded his eyes." And in the meantime, Simon's band gets a gig.
Chapitre huit : Promenade dans l'obscurité
« Mais celui qui hait son frère est dans l'obscurité, et marche dans l'obscurité, et ne sait pas ce qu'il a, parce que cette haine obscure a aveuglé ses yeux. » Et en attendant, le groupe de Simon décroche un concert de Rock.
Chapter Nine: From Fire Unto Fire This is from Oscar Wilde: "Nay, let us walk from fire unto fire, From passionate pain to deadlier delight,— I am too young to live without desire." I am sure everyone will be happy to know this chapter is mostly Clary and Jace.
Chapitre neuf : Du feu jusqu'au feu
C'est d'Oscar Wilde : « marchons du feu jusqu'au feu, De la douleur passionnée à un plaisir plus mortel, - Je suis trop jeune pour vivre sans désir. » Je suis sûre que chacun sera heureux de savoir que ce chapitre est consacré la plupart du temps à Clary et Jace.
Chapter Ten: 232 Riverside Drive Quite literally the address of something important (I can't help but wonder if someone actually lives at this address — I have friends who live on Riverside Drive, though not this number...)
Chapitre Dix : 232 Riverside Drive Assez littéralement l'adresse de quelque chose d'important (je ne peux pas aider mais je me demande si quelqu'un vit réellement à cette adresse - j'ai des amis qui vivent sur Riverside Drive, mais pas à ce numéro…)
Chapter Eleven: Our Kind
In this case, "Our Kind" is vampires.
Chapitre onze : Les Nôtres
Ici, « Les Nôtres» concerne les vampires.
Chapter Twelve: Sanctuary In which a character we know from Clockwork Angel makes a strange demand of the Nephilim.
Chapitre douze : Sanctuaire
Dans celui-là, quelqu'un que nous connaissons de "clockwork angel" fait une étrange demande de la part des Nephilims.
Chapter Thirteen: Girl Found Dead What it says on the tin!
Chapitre treize : La Fille trouvée morte ce qui est indiqué sur l'étain !
Chapter Fourteen: What Dreams May Come* "Max," Jace said. "Max, I'm so sorry."
Chapitre quatorze : Quels rêves doivent se réaliser* « Max, » dit Jace. « Max, je suis tellement désolé. »
Chapter Fifteen: Beati Bellicosi The actual phrase in Latin is Beati Pacifici — blessed are the peacemakers. In this case, I altered it (hopefully accurately) to Blessed are the Warriors.
Chapitre quinze : Beati Bellicosi
L'expression réelle en latin est Beati Pacifici - béni sont les conciliateurs. Dans le cas présent, je l'ai changé (si tout va bien ça devrait donner) Bénis soient les guerriers.
Chapter Sixteen: New York City Angels Those who know the Thriving Ivory song Angels on the Moon will recognize this phrase.
Chapitre seize : New York cité des anges...
Ceux qui connaissent ce chant the "Thriving Ivory song Angels on the Moon" reconnaitront cette expression.
Chapter Seventeen: Cain Rose Up And Cain talked with Abel his brother: and it came to pass, when they were in the field, that Cain rose up against Abel his brother, and slew him. All of this stuff is from Genesis 4, the Cain and Abel story — it's thematically called up throughout the book since it's a story about family, murder, sin, forgiveness and blood.
Chapitre dix-sept : Caïn s'éleva Et Caïn parla avec Abel son frère : et il est venu pour passer, quand ils étaient dans le champ, Caïn s'éleva contre Abel son frère, et le massacra. Issu de la genèse 4, de l'histoire de Caïn et d'Abel - C'est un thème récurant à tout le livre puisque c'est une histoire de famille, de meurtre, de péché, de rémission et de sang.
Chapter Eighteen: Scars of Fire This is actually from a Carl Sandburg poem: "Wandering oversea singer, Singing of ashes and blood, Child of the scars of fire, Make us one new dream, us who forget. Out of the storm let us have one star."
Chapitre dix-huit : Cicatrices de feu
c'est en fait tiré d'une poésie de Karl Sandburg : « Chanteur d'outre-mer errant, Chant des cendres et du sang, Enfant des cicatrices de feu, Faites-nous un nouveau rêve, nous qui oublions. Hors de l'orage laissez-nous posséder une étoile. »
Epilogue — As of now, the epilogue is just titled "epilogue." It's pretty short but, I think, packs a punch. I hope so!
Épilogue - A aujourd'hui, l'épilogue est juste intitulé "épilogue". » Il est assez court mais, je pense, percutant. Enfin J'espère!
*Everyone knows this one! But in that sleep of death, what dreams may come. Hamlet.
Tout le monde connaît ça ! Mais dans ce sommeil de la mort, quels rêves peuvent venir. Hamlet.
Je peux vous garantir que l'épilogue est percutant en effet!!